Nate's Podcast Picks
What is a podcast? A podcast is an episodic program delivered via the Internet. Podcast episodes can be audio files, video files, documents, or any combination of the three. The publisher or broadcaster podcasts the program by posting the episodes to the web. The consumer subscribes to the podcast using a client application, such as iTunes, which regularly downloads new episodes. Click here for more information.

If it weren't for my weekly podcasts I'd be drowning in an endless sea of new music, books, and movies. These days it seems impossible to keep up, there's just too much good stuff out there. Of course, word of mouth is still my favorite mode of finding new things, but I also find that a good podcast can provide the perfect access point for me to finally get into a music group or actually go see that new film opening up this weekend. I can almost guarantee I never would have listened to Van Morrison's "Astral Weeks" if it hadn't been for Jim & Greg's album dissection on Sound Opinions. I never would have seen the latest Woody Allen film "Midnight in Paris" if it wasn't for Matty Robinson's rave review on Filmspotting.

Beyond film and music, a good podcast can take a half hour or less to introduce you to fascinating topics you never thought you'd take an interest in. Through Terry Gross's recent interview with Adam Hochschild, author of "To End All Wars", I learned all about life in the trenches during World War I. Through the Stuff You Should Know podcast I recently learned how traffic works, something that I've always been curious about while sitting in it, but never wanted to study in depth. My podcasts keep me in the loop and spark my curiosity. I thought I'd share a few of my favorites.
The following is a list of podcasts I subscribe to and enjoy on a regular basis. If they sound interesting, you can subscribe to them through the iTunes store. Bonus- they are all free!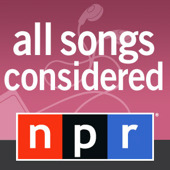 1. All Songs Considered- Host Bob Boilen brings you an eclectic mix of fresh music by emerging and breakout bands and musical icons.



2. Big Ideas- Big Ideas offers lectures on a variety of thought-provoking topics which range across politics, culture, economics, art history, science....By nature of its lecture format, pacing and inquisitive approach, it is the antithesis of the sound-bite television norm.



3. Filmspotting- A weekly film show from Chicago featuring reviews, interviews, top 5 lists, and more with Adam Kemenaar and Matty Robinson.



4. Fresh Air- This Peabody award-winning weekday magazine of contemporary arts and issues, is one of public radio's most popular programs. Hosted by Terry Gross, the show features intimate conversations with today's biggest luminaries.

5. Intelligence Squared Podcast- Brings Oxford-style debating to America- one motion, one moderator, three panelists for the motion and three against.



6. Judge John Hodgman- Famous Minor Television Personality John Hodgman (the "PC" guy in those Mac commercials) solves pressing issues emailed to him.



7. New York Times Book Review- The world's top authors and critics join Sunday Book Review Editor Sam Tanenhaus in lively conversations about books, art, and ideas.



8. Sound Opinions- Described as the world's only rock and roll talk show. Hosted by Jim DeRogatis of Vocolo.org and Greg Kot of the Chicago Tribune. Each week Jim and Greg bring you the latest music news and reviews. Plus tune in to hear exclusive interviews and performances.



9. Stuff You Should Know- How does self-experimentation work? What about the World Trade Center Memorial? Whether its a microexpression or a human cannonball, its all Stuff You Should Know. Learn more with Josh and Chuck in this podcast from HowStuffWorks.com



10. This American Life- First-person stories and short fiction pieces that are touching, funny, and surprising. Hosted by Ira Glass.
--Nate Gass, This email address is being protected from spambots. You need JavaScript enabled to view it.